Headphones
Soundcore by Anker R500 Fast Charging In Ear Neckband Headphones - Black
Talk for 30 minutes with just 5 minutes of charging
Washable and waterproof (IPX5)
Music and Call Control, 195mAh Battery, Al-Enhanced Calls
AI powered mics for Crystal clear calls
Comes with 3 sizes of earbuds for a sporty fit
Earbuds magnetically clip together for easy, tangle-free use
Headphones
Soundcore by Anker R500 Fast Charging In Ear Neckband Headphones - Black
Talk for 30 minutes with just 5 minutes of charging
Washable and waterproof (IPX5)
Music and Call Control, 195mAh Battery, Al-Enhanced Calls
AI powered mics for Crystal clear calls
Comes with 3 sizes of earbuds for a sporty fit
Earbuds magnetically clip together for easy, tangle-free use
Soundcore by Anker R500 Fast Charging In Ear Neckband, The Neckband Features 10Mm Drivers For The Immersive Signature Hd Sound. Hence The Collar Neckband Elevates The Listening Experience With Deep, Powerful, And Balanced Bass, Which Is Made For Bass-Loving Audiophiles. Moreover, The Company Claims That The Bass Matches Different Music Styles And Frequencies. Complete Comfort: Lightweight Neckband And Compact, Multi-Size Accessories Are Designed To Provide Lasting Comfort And Hold,Earbuds Magnetically Clip Together For Easy, Tangle-Free Use.
SLIMLINE DESIGN: Lightweight neckband and compact ear tips ensure a comfortable fit.| It has a rubberized material construction.
WATER-RESISTANT: Listen anywhere in confidence with hydrophobic nano-coating and IPX5 rating.| IPX5 protection against splashing water and sweat.
EXTENDED BATTERY LIFE: Get 10 hours of music or 12 hours of Talktime from a single charge.| The novelty is powered by a battery of 195 mAh.| 20 hours of listening to music.System for suppressing extraneous sounds during conversations.|Built-in microphones with AI features are responsible for it.
Charge the headphones through USB-C, Connect to your smartphone via Bluetooth 5.0
Complete Comfort: Lightweight neckband and compact, multi-size accessories are designed to provide lasting comfort and hold.
The neckband features 10mm drivers for the immersive signature HD sound. Hence The collar neckband elevates the listening experience with deep, powerful, and balanced bass, which is made for bass-loving audiophiles. Moreover, the company claims that the bass matches different music styles and frequencies.
20 hours Play: It supports 20 hours of playtime for whole day use on a single charge. supports fast charging (USB-C) that equals 10 min charge to 3-hour playtime.
Microphone & remote: R500 supports superior calling experience with an AI-powered microphone. Nevertheless, allows to hear and be heard clearly. The two buttons' inline remote control ensures a hands-free user experience.
Bluetooth V5.0: The R500 comes with Bluetooth V5.0 and is compatible with Android and IOS devices on the connectivity front. Lightweight, ultra-flexible, and tangle-free, the neckband provides a dynamic audio experience up to 10m distance.
IPX5: the neckband is IPX5 Water resistant, which can withstand all weathers and deliver an unaltered performance each time.
Furthermore, the earphone gives an excellent and balanced bass output. However, its 195mAh battery offers up to 20 hours of entertainment on a full charge. The Soundcore R500 has AI-enhanced microphones, which combine with the other features to give the user an overall exhilarating sound experience.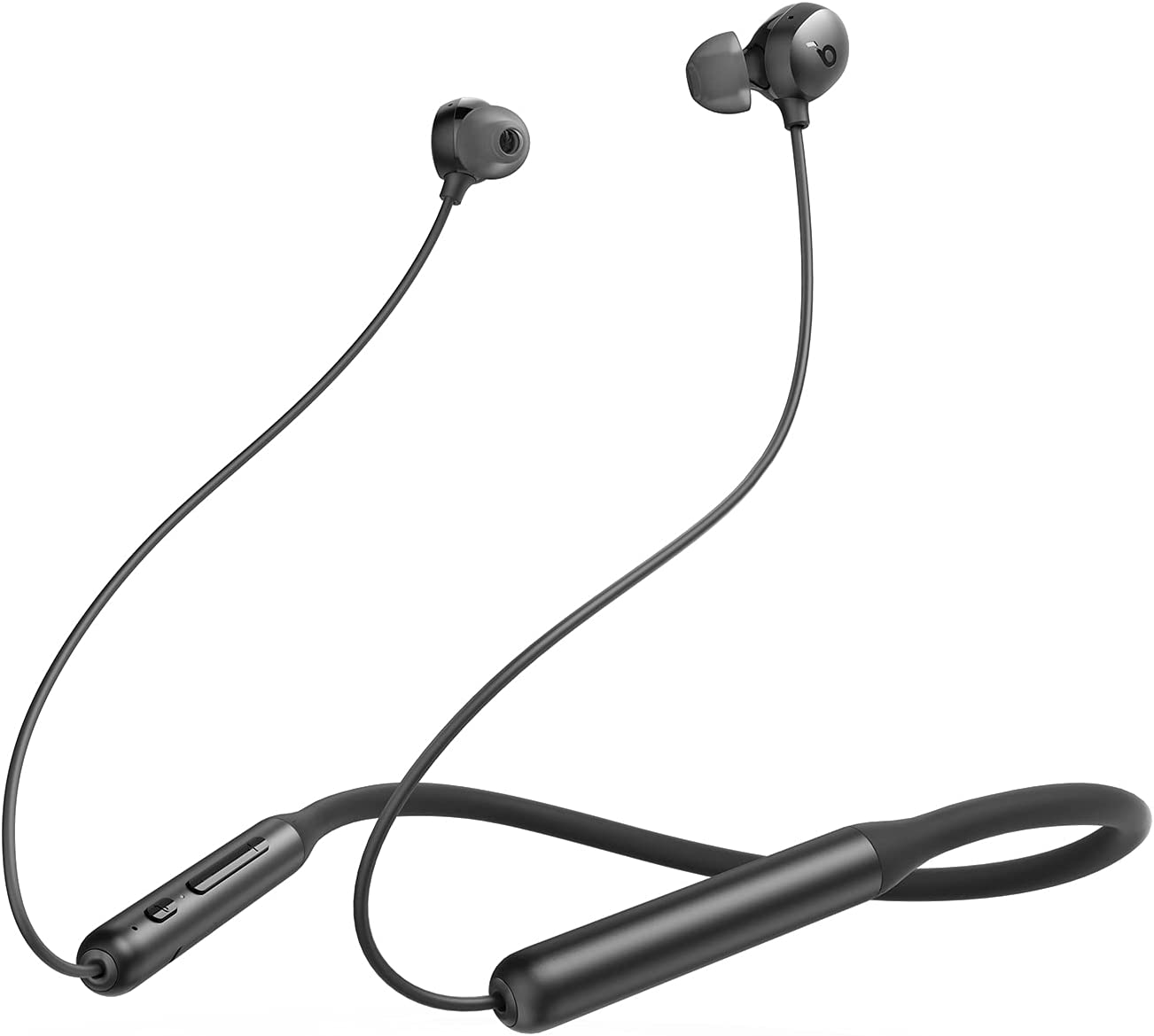 AI Enhanced Calls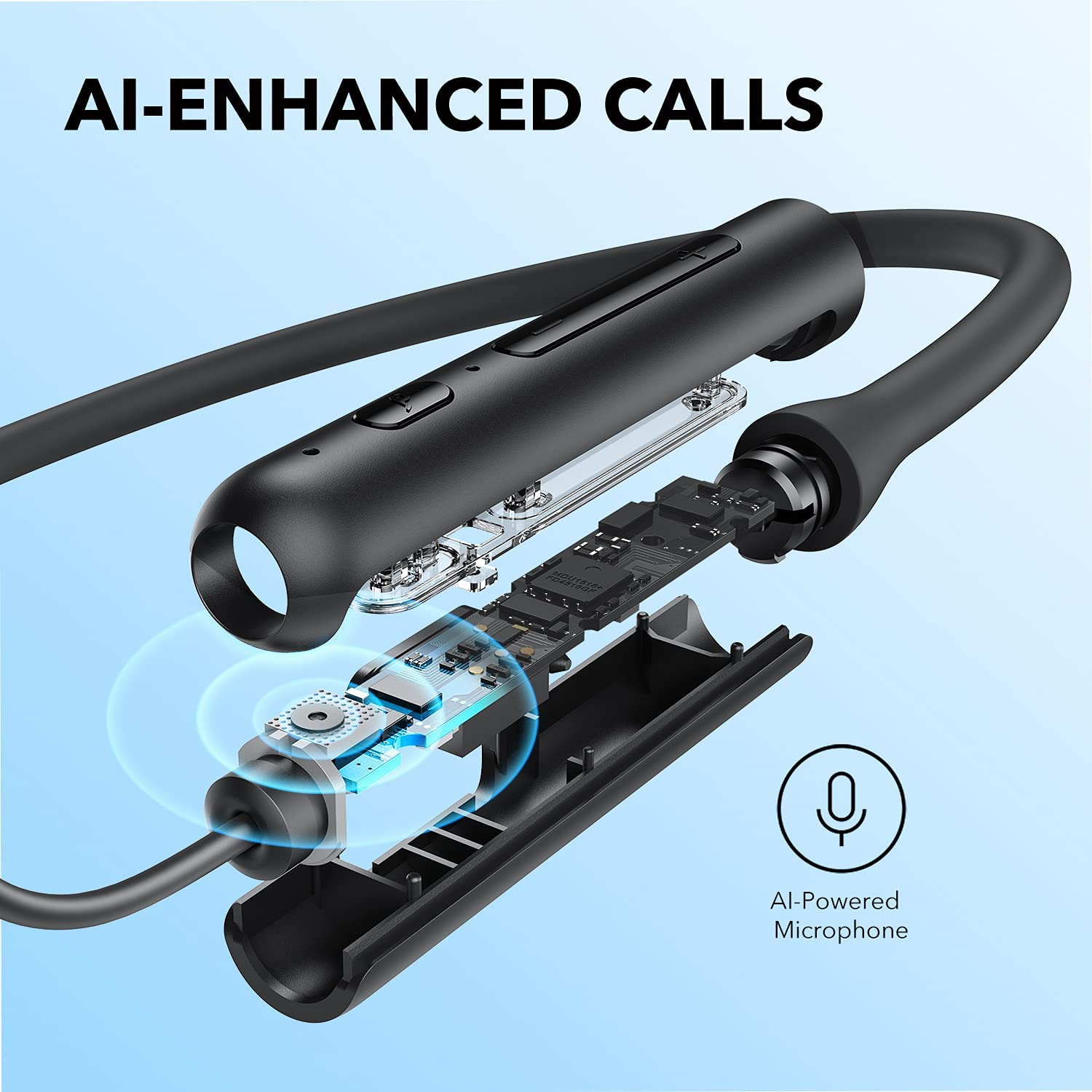 High Quality Sound